These guys need to try harder.
Hi there, you! It's me... me! We haven't talked in a while. My excuse is becoming the proud father of a two-month-old, with all the extra responsibilities that entails. What's yours?
I'll try to hit you up with my unbeatable 2011 year-end coverage when I get a second, like a real part-time music critic, with rankings and everything-- maybe by roughly the time the Village Voice publishes its annual
Pazz & Jop
poll? Or by 2013, whichever is sooner. Hey, with the glut of online coverage and preemptive list-making these days, later is probably better. More time to cool off, get some perspective, and spend time with any records I might've underrated during the year. Or not, we'll see.
What I do want to tell you about in this post (so why don't I just tell you already, right?) is New Year's Eve. That's breaking news, so let's steal one of those sirens from that ol' Murdoch wannabe Drudge, shall we?
There we go! Anyway, on New Year's Eve I got to spin records at my favorite local music venue, Vaudeville Mews, with local pub trivia night master Bob Nastanovich, also known as the guy who has the most fun onstage during Pavement concerts. Pavement has been one of my favorite bands since 10th grade, so up there on the screen this reads to me like something that should seem like a big deal. But Bob is pretty much the most down-to-earth guy around, so what it really felt like was just a couple of dudes drinking for free and praying their turntables didn't give off an irritating buzz because their grounding wire was fraying (Bob) or send off weird droning quasi-dubstep wooshes because for some reason the table was vibrating (me). I also started a ridiculously high number of records at the wrong speed, 33 when it was 45 or else vice versa, I think Bob might know the exact tally.
We started testing out our gear a little after 8 ("What, you guys don't have a mixer?") and for the first few hours there was basically nobody in the bar, so Bob and I just went back and forth playing whatever we felt like. Suddenly, not long before midnight, the place was just
packed
, to the point where you had to switch from plucking out obscurities that seemed to jibe with what Bob had just played (or you had just played) to, y'know, Michael Jackson. Which, I love Michael Jackson, but that's a whole different thing! We had a couple of microphones, too, and Bob was nice enough to do the countdown when midnight came (he was playing New Order's "Temptation," and then I segued into the Prince song that is the title of this post, which I thought to myself was particularly appropriate this year because of the Maya end-of-the-world thing and also because after all these tumultuous years 1999 really does suggest a time period when you'd have a super fun party).
Bob ended up having to leave around 1 a.m., which was cool but meant I would now have to pick all the records myself, and play them on my single turntable with its missing counterweight measure and fend off dudebros requesting the Rolling Stones or lady dudes asking me to "play something I know" like for example that MGMT record I was gonna buy earlier that day if they had it at Zzz Records if I had had time to stop by Zzz Records. Luckily, a couple of our Brooklyn friends and their family members had come out to Vaudeville Mews, including a guy with actual, I mean actual, DJing experience who had advised me on my purchase of a new turntable earlier in the week, the one and only David Bacon though not the DJ David Bacon that comes up when I Googled that name just now. So he was able to help steer me toward the good stuff and keep the records playing steadily as the crowd died down and eventually closing time came at 2 a.m. There are a whole lot of other funny stories I started to type just now but I just deleted them, because this isn't Pitchfork Reviews Reviews and anyway it's good to save something to tell each other over beers. You've gotta see the baby!
Here's what we played:
(as best as I can tell from the hurried notes I took with the iPhone's "Notes" app)
LISTEN ON SPOTIFY
(many of Bob's rarities sadly omitted)
BN: Honor Role, "Twist"
MH: Flux of Pink Indians, "Tube Disasters (JD Twitch Re-Edit)"
BN: Clifton Chenier, "Hey, Hey, Hey"
MH: Mayer Hawthorne, "I Need You"
BN: The Breeders, "Safari"
MH: Nobunny, "Motörhead With Me"
BN: The Birthday Party, "Mr. Clarinet"
MH: Mumford's, "Kiss the Ring"
BN: Repulse Kava, "Daddy's Crowbar"
MH: Derek Lambert and the Prairie Fires, "A Change Will Come"
BN: Monkey 101, "French Feelings"
MH: Iceage, "Broken Bone"
BN: The Fall, "There's A Ghost in My House"
MH: Big Troubles, "Misery"
BN: Camper Van Beethoven, "Sometimes"
MH: Pains of Being Pure at Heart, "Heavens Gonna Happen Now"
BN: Echo & the Bunnymen, "Stars Are Stars"
MH: The Lightning Seeds, "Pure"
BN: Death of Samantha, "Coca Cola & Licorice"
MH: Happy Mondays, "Hallelujah (Radio Mix)"
BN: Wire, "Our Swimmer"
MH: Air France, "Collapsing at Your Doorstep"
BN: Vertigo, "Two Lives"
MH: Pavement, "Texas Never Whispers"
BN: The Beach Boys, "Vegetables"
MH: Allo Darlin', "Darren"
BN: Spectrum, "How You Satisfy Me"
MH: Cults, "Go Outside"
BN: Francis Lai, "Theme From Love Story"
BN: Nancy Sinatra, "These Boots Are Made for Walking"
MH: Sleigh Bells, "Rill Rill"
BN: Blondie, "Rapture"
MH: Friends, "I'm His Girl"
BN: Mudhoney, "Touch Me I'm Sick"
MH: Ghost Town DJs, "My Boo"
BN: Gang of Four, "Damaged Goods"
MH: LCD Soundsystem, "North American Scum"
BN: The Avengers, "Paint It Black"
MH: Amerie, "Gotta Work"
BN: Hot Chocolate, "You Sexy Thing"
MH: First Choice, "Hold Your Horses" (2:44 version)
BN: Rain Parade, "Saturday's Asylum"
MH: Washed Out, "Eyes Be Closed"
BN: New Order, "Ceremony"
MH: Holy Other, "Know Where"
BN: Roger Miller, "Chug a Lug"
MH: Chic, "Good Times"
BN: Nirvana, "Sliver" (Sub Pop 7")
BN: Run-DMC, "King of Rock"
MH: Rock Master Scott and the Dynamic Three, "The Roof Is on Fire"
BN: The White Stripes, "Why Can't You Be Nicer to Me"
MH: Free Energy, "Bang Pop"
BN: Joy Division, "Atmosphere"
MH: M.I.A., "Galang"
BN: Jack Hylton & His Orchestra, "The Gold Diggers' Song"
BN: Pylon, "Crazy"
MH: Hudson Mohawke, "All Your Love"
BN: Kool & the Gang, "Ladies' Night"
MH: Ace of Base, "The Sign"
BN: Heart, "Crazy on You"
MH: Justin Timberlake, "SexyBack"
BN: Mrs. Miller, "Downtown"
MH: UGK ft. Outkast, "Int'l Players Anthem (I Choose You)"
BN: New Order, "Temptation" [MIDNIGHT!!!]
MH: Prince, "1999"
BN: Eric B. & Rakim, "Paid in Full"
MH: Gorillaz, "Feel Good Inc."
BN: Baby Mammoth, "Pigs in Space" (I think?!)
MH: TLC, "Creep"
BN: (unknown, sorry)
MH: R. Kelly, "Ignition (Remix)"
BN: David Bowie, "China Girl"
MH: Whitney House, "I Wanna Dance With Somebody (12" Remix)"
BN: The Normal, "Warm Leatherette"
MH: CFCF, "Cometrue"
MH: Dandi Wind, "The Safety Dance"
MH: D'Angelo, "Brown Sugar"
MH: Elite Gymnastics, "Minneapolis Belongs to You"
MH: Michael Jackson, "Don't Stop 'Til You Get Enough" *
MH: Daft Punk, "One More Time" *
MH: Missy Elliott, "Work It" *
MH: Lil Wayne, "A Milli" *
MH: Chic, "Le Freak" *
MH: Michael Jackson, "Rock With You" *
MH: TLC, "Creep" (yes, again! by request) *
MH: Drake ft. Nicki Minaj, "Make Me Proud" *
MH: Crystal Castles, "Untrust Us" *
MH: Ne-Yo, "Because of You" *
* ably assisted by DJ David Bacon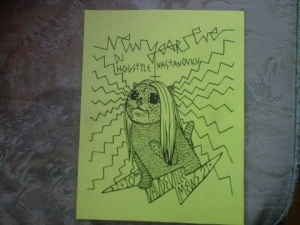 I'll find my soul as I go home.
Thank you so much to Amedeo Rossi for letting me ring in the New Year at his venue, to the one and only Ladd Askland for inviting me, to Derek Lambert for running sound, to Bob for asking to join up and letting us use his name to help promote things, to Richie Daggers for helping me carry my gear home (I owe you a beer), and to Kristy Rahm for the rad flyer (I've never had my own flyer before!). And thanks also to the Des Noise-ubiquitous Chet Boom for lending me his Free Energy record -- I'm sorry my needle couldn't keep up with the bang-pop rock!
There were a lot of records I've never played out before that I didn't get to play because I was saving them for when more people showed up and then so many people showed up I needed to play something more obvious. So maybe we can do it again sometime?
In the meantime, hope to see many of you at
Askland
aganza
this weekend.